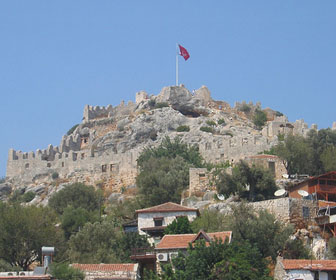 Kekova is one of Turkey's regions with fascinating islands and ancient cities such as Aperlai, Simena, Theimussa and Cyaneae.

Kekova Island makes a pleasant trip for a traveler who is looking for a blend of sunshine, swimming and enthralling historic ruins. Alongside of its stony coastline are caves, occasional goats, and some blazing pyramids of wood which is commonly used by peasants in making charcoal.




In this island, a sailor can safely lie and anchor his boat in a sheltered anchorage which is also known as "roads' in a sailor's language. The region of Kekova "roads" represents a place of stunning and natural beauty with various ancient sites combined in order to offer the tourists and visitors an unforgettable experience of a lifetime. Due to its attractive places and a whole lot more to explore, that some become addicted to it and return to this region over and over again.

Kekova has existed since the 5th Century. During those times, Lycia was a great kingdom, while Kekova was the seaport of Lycia and which directly connected to the mainland. The people of Lycia, also known as Lycians, traded freely and widely with the Greeks. This made the kingdom very vulnerable to the pirates, so that's why the cities were well equipped with weapons. As the centuries gone by, the region was devastated by a series of platonic earthquakes, which made the ancient cities sunk up to six meters under the sea, creating an extraordinary view with half of the city under the water and half above. While there are wonderful submerged ruins that a naked eye can behold while cruising down the sea, it would be a lot more thrilling experience seeing them while swimming leisurely with snorkeling goggles.

Unfortunately, there are also some signs that serve as warning against swimming or diving because of some past foreigners and visitors that took pieces of ancient remnants as souvenir. A tourist guide will only allow the visitors to swim and snorkel further to the west, wherein the relics of the Byzantine chapel stands and where further remains of Lycian sunken city can be explored at ease.

The visitors shouldn't also miss the chance to see the remains of ancient Myra located in the east of Kekova "roads" wherein the church of St. Nicholas is situated, since the tradition of Santa Claus during Christmastime begins here. Here's a few glimpse on how this tradition started; the well-known anonymous generosity of St. Nicholas, the bishop of Myra during the 4th century, which is in time, was honored through giving gifts during Christmas and St. Nicholas was then transformed into the famous, modern day Santa Claus.

Aside from its cultural features, the island of Kekova also displays very momentous geological formations, hydro-biological features, rippled coast lines, and great, scenic splendor that form an exceptional quality. This island shows an example of a remarkable cultural continuity, as well as, a living cultural assent.

You can reach Kekova through land from Demre Cayagzi and also in boats that can be rented at Kas. At the time you've left Kekova, you'll pass the Kisneli Island and Asirli Island which leads to the harbor of Gokkaya. The Inlet of Gokkaya is an attractive bay with an excellent harbor. On the course, you will see a big sea cave that was believed to be used by the pirates a long time ago. From here you can also go to Demre Cayagzi, also known as the Kokar bay, wherein you can see are the ruins of Andreake. Then, you can ride a car to the ruins of Myra, the city of St. Nicholas. From here, you may visit the other Lycian cities such as Apollonia at Kilincli, Isinda at Belenli, Kyaenai at Yavu, Istlada at Kapakli, Trysa and Sura at Golbasi. This place is also filled with numerous of ancient Lycian tombs lying everywhere.

A captivating Lycian necropolis or "land of the dead," lies at Theimussa, near Ucagiz across Kekova. You can also reach the place by the sign-posted track from the main road in between Kas and Demre, while the ones aboard a boat could be contented with a view from the sea, passing Kale, known as the ancient Simena, situated nearby the crenellated walls of an ancient Roman castle. Within the castle is a small theater, cut into the rock that fits 300 people only, an indication that this place has been a minor settlement during Roman times. A solitary Lycian tomb standing a few centimeters at the western side of the waters attracts the visitors to pose beside it for photographs. Along the coast are waterside restaurants which offer great Turkish dishes including locally and freshly caught fish.

Nowadays, Kekova is a well-known anchorage for sailors and a great place to visit for those who enjoy history combined with nature.