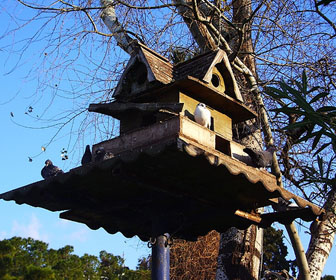 The town of Kuşadası is the best tourist destination during summertime because of its popular beaches and aqua parks. You can also see here a lot of cruising ships that travel around the Aegean Islands. It is indeed a great place to go and explore not only the beaches but also the other ancient cities like Didyma and Priene.

Although the town has a little historical interest, it is more popular of its hotels, restaurants, and souvenir shops.

The Kale district here in Kusadasi has old traditional houses which give a visitor some hint of what the town was used to be.

The most recommended tourist spots here are the following:
Guvercin Adasi (Pigeon Island), which used to be an important defense port, located along the Ottoman Aegan coast and now known as a relaxing place where you can see landscaped terraces, snack bars and tea houses.

Kusadasi Cruiser and Yacht Ports, the main ports of the tourist ships that approach Kusadasi;

Kale Ici Mosque, built during 1618 by Grand Vizier Okuz Paşa;

Okuz Mehmet Pasa Caravansary also constructed during 1618 and is now a sumptuous hotel;

Long Beach, which offers cafes, restaurants and water sports such as parasailing, water skiing and jet skiing;

Green Beach, a small and calm, sandy beach which is a 5-minute drive from the center of town;

Ladies Beach, a sandy beach which measures about 1 km. long and offers deck chairs, sun umbrellas, and showers, you can also find cafes and restaurants across the street;

Papaz Beach, a rocky beach area that is located very near the center of Kusadasi town.

Downtown Beach, the only beach located within the town that is free of charge, although it does not offer sun umbrellas or deck chairs. This beach is very convenient for those tourists who are staying in the downtown hotel;

Sun Set Beach Club, a private club where you have to pay a certain amount in order to enter and use the premises. This beach has no sand but rather you can find a combination of concrete and stone platform on the rocks.

Kustur Beach, a beach situated 5 km (3 miles) north of Kusadasi. The beach offers sun umbrella, deck chairs, showers, sand volleyball court, and water sport activities, and even ATM machines when you need cash! This beach is usually crowded during Sundays and holidays.

Pamucak Beach, a sandy beach which measures at about 80 meters wide, and it is in the middle of this beach where the river Kucuk Menderes unites with the sea. The beach does not offer sun umbrellas and deck chairs but you can enjoy camel riding or horseback riding within this beach.

Baradan Bay, a beach located 25 km north of Kusadasi. There are two ways to reach Baradan bay, one is through land transportation and the other one is traveling by the sea. Traveling by land would take you about 30 min. though the most common way of reaching this place is to travel by sea which would take you for about an hour. This beach offers picnic tables although there are no deck chairs that are being offered.

Aqua Parks, there are two famous aqua parks here in Kusadasi. They are Adaland and Aqua Fantasy where you can enjoy their variety of magnificent, thrilling and exciting water park rides.

Thermal Springs, the well known and important thermal springs around here in Kusadasi are Ciban (Yavansu), Venus and Guzel camii.

Those are just some of the wonderful places in Kusadasi where you can explore and enjoy your vacation. There are three means of transportation when going to Kusadasi. It is traveling by land, by sea or by air. When traveling on the road, you can take the smaller buses that make regular trips or the dolmuses which run like shuttle services. These buses either depart from the town centre or from the bus stations.

When you choose to travel by sea, you can take cruise ships or yachts that are sailing daily to the Greek island of Sisam (Samos). You can also take the Blue Voyage Boats which are organizing trips and excursions. While the easiest way to get to Kusadasi is by riding a plane, the nearest airport in Kusadasi is the Izmir Adnan Menderes which has regular domestic flights to Istanbul and Ankara and also chartered flights to other European countries as well.