The city being in this location is surely no coincidence – it has been proven that Greeks and Romans made use of hot springs, lakes and used mineral-rich mud for beautification. The water is also slightly radioactive and helps with rheumatic and skin problems, female illnesses, supports the nerve system as well as general weaknesses and digestive/nutritional complaints.

Hence most spas date back to ancient or at least Ottoman times.

Here a selection of spas across Turkey:
At the southern coast of the Marmara Sea is Yalova, set in a landscape which is also suitable for biking and hiking. The water in this spa centre contains natriumchloride, calcium sulfate and fluoride and can be used externally as well as internally to heal rheumatism, digestive problems, illnesses of the thyroid glands, kidneys and urinary passages and metabolism problems. Near Yalova is a further spa, Armutlu, with water at temperatures between 57-73 degrees.

Bursa is an important spa centre 2-3 hours drive south of Istanbul. Visitors here can bathe in and drink waters containing bicarbonate, calcium, magnesium sulfate and carbonic acid and find relief from rheumatism, liver, gallbladder and metabolism complaints as well as female illnesses and post-surgery problems. There are several well-appointed hotels to choose from, all with their individual health packages.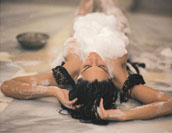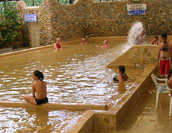 The Balikesir region between Bursa and Izmir features a spa named after the local river "Gonen". Here 73 degree hot water provides relief and healing for chronic rheumatic and orthopedic complaints as well as gynecological and post-surgical problems. A wide variety of treatments are on offer – short wave therapy, ultrasound, paraffin baths, under water massage, drinking and inhaling, all under the supervision of qualified medical staff.

Cesme ("fountain") spa centre is located approx. 80 km west of Izmir and include a spa, under water massage and other therapies. The waters contain natriumchloride, calcium and magnesium sulfate. A further complex, Altin Yunus, features a sea water spa. Nearby are two further spas, Ilica and Sifne, the latter known for its healing mud treatments.

Izmir-Balcova's spas are located right above the historic Agamemnon baths, where, according to legend, the soldiers wounded in the battle of Troy regenerated their health. The waters contain natrium chloride, calcium-carbonate and leave the ground with 62-80 degrees. Rheumatic and digestive problems as well as calcification and metabolism can be cured here.

Bolu is half way between Istanbul and Ankara and boasts not only a beautiful setting right in the mountains, but also water with a temperature of 42-44 degrees containing bicarbonate, sulfate, calcium, magnesium and carbondioxide. Kidney and gallbladder patients are helped here together with those suffering from circulation, respiratory or sleep problems. The nearby Yedigoller ("Seven Lakes") National Park is definitely worth a visit.

Mugla is the southernmost spa location in the western part of Turkey and consists of Sultaniye, Velibey and Riza Cavus, among locals known as "Girme", all of them located along a natural lagoon, which connects Lake Koycegiz with the Mediterranean. The historical context of this area can be seen in the rock graves near the Lycian town of Kaunos. The water found here contains natriumchloride, carbonic acid, sulfur-bromide and fluoride and is radioactive. It serves to cure rheumatic, skin and gynecological disorders as well as general weaknesses of nerves and body. Visitors may also see the famous symbol of the region, the sea tortoise "Caretta Caretta".

Kutahya is famous for its ceramic wares and the only city in Turkey with six spas. The most important is Ilica, where water between 25-43 degrees containing magnesium, calcium and bicarbonate heals rheumatic, gynacological and skin disorders and provides relief for the nerve system, liver and gallbladder problems and complaints of the thyroid and the spine.

Omer-Gecek in Afyon karahisar features 42-53 degrees hot water good for almost any illness as it contains natriumchloride, bicarbonate, iron and carbonic acid. There are altogether 4 spas catering for over 4000 people in hotels plus 45 villas.

Ankara, Turkey's capital, features three spas in the surrounding areas. Visitors here can combine the cultural attractions, museums and shopping facilities with a health-orientated holiday. Bicarbonate, natrium, chloride and carbonic acid elements in the 50 degree waters help with neuralgic, rheumatic and gynecological problems as well as illnesses of the respiratory, kidney and gallbladder tracts. In addition, the water here is beneficial for polio sufferers.

Central Anatolia's biggest town, Konya, the birthplace of the legendary Mevlana, features a spa in Ilgin, approx. 90 km from Konya itself. The water here not only contains bicarbonate, calcium, sodium and carbondioxide, but is also radioactive, hypotonic and hyperthermal. It alleviates rheumatic, liver, gallbladder and metabolism illnesses.

Kangal near Sivas features two spas producing 36 degree hot water containing bicarbonate, calcium, magnesium, sulfate, carbonic acid, chloride and natrium. In addition to the healing effect of the water, thousands of small fish living in the salt and sulfur rich waters, clean the bathers of psoriasis and regenerate the skin. In addition, there is cure for diseases of the urinal, respiratory and nerve system, heart and circulation, liver, metabolism and rheumatic complaints.

All in all, Turkey is an alternative for those who would want to combine a holiday with some sightseeing and cure for common complaints and diseases.