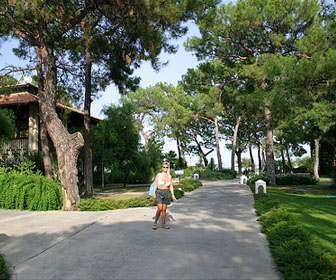 Beldibi is an enchanting small resort located about halfway between Antalya and Kemer. You just need to turn the main road and you can reach Beldibi a few minutes away.

You will see acres of orange and lemon groves between the road and the resort. If you visit this place during the harvest season, you can find stalls along the road selling freshly pressed orange juice that is from the tree to the glass in just a minute.

You can really enjoy its freshness. Beldibi resort is very small with just one road going parallel to the beautiful sandy beach.

It is also where the bars, shops and restaurants are located. Since the resort is small, all the things you want to see and enjoy are within a short of accommodations. The resort is very calming and unspoiled place. It has mixed hotels and pensions accommodation which retained the appeal of a traditional Turkish village. This place is best for families and couples looking for a relaxed holiday.

Beldibi is really about sightseeing, relaxing and enjoying the beach and sunshine. You can visit the Termessos which is located in the town of Antalya. You will find here the Psidian city constructed at the stature of 1050 meters in Taurus Mountain. This place is the most appealing antique cities in the region. It also has an amazing blend of numerous unique plant and animal species under the conservation of the Termessos National Park.

You can enjoy golfing in Belek, one of the most premier golf centers in Turkey. It has a first-class 18 holes golf course which can satisfies all levels of player from beginners to experts. It also provides great entertainment for parents and children because of many activities nearby. Here in Belek, you can also find the well-preserved Roman 20,000 seater theater which is still functional for concerts and recitals during summer. And in the evening you can have a relax drink or enjoy some of the delicious native food in one of the restaurants and bars located in the resort. One of the famous bar here in Beldibi is the James Dean Bar located on Iskele Cad in Antalya. It provides a wide selection of drinks at a very reasonable price. You should not miss this out once you visit Beldibi.

There are also great shopping bargains situated near Beldibi. Migros Shopping mall is one of that shopping center where you can find wonderful selections of shops from jewelry, perfumes, toys, clothes, bags and shoes. This is also a great place to buy local souvenirs for your love ones back home.

Holiday in Beldibi will be one of your memorable vacations.