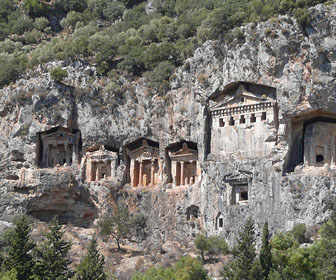 Dalyan is located in a province of Turkey name Mugla, in Aegean region. Two landmarks that travelers can remember going to Dalyan are the known districts of Turkey, namely Marmaris, Ortaca and Fethiye. Dalyan is at the southern part of Turkey.

Dalyan became known to foreigners because of its hotels and its beach, the Iztuzu beach which is a known breeding ground of sea turtles.

Dalyan started to gain international fame in 1986, when certain personalities proposed to erect a luxury hotel near Iztuzu beach. However, the proposal was discontinued when a British man name David Bellamy did everything that he could do to cease it. Consequently, the said beach was declared protected area for the preservation of loggerheads since this kind of turtle became listed among the endangered species David Bellany is from England, a Baptist botanist, author, broadcaster and an environmentalist. Bellany was one of those who started the idea of nature conservation and the campaigns to protect the earth from green house effect and global warming. Aside from in Turkey, he also established his name in New Zealand. David Bellany's fought for the preservation of Iztuzu beach turned out beneficial for Dalyan.

In Dalyan there is a river called Çayı River that regular Dalyan tourists know, because, on that river, tourists travel by boat going to different parts of Dalyan. The word Daly an means fishing weir in Turkish language. Talking about livelihood, Dalyan is known as an agricultural town offering variety of vegetables, fruits and exports cotton. People buy and sell agricultural products in markets every Saturday.

Dalyan is near to Lycia, another famous historical site in Turkey. Lycia is a mountainous area and its forest is thick. Ancient inhabitants of Lycia worshiped the ancient Greek gods and goddesses like Leto and her twins, the god of music Apollo and his twin Artemis the goddess of forests and hills when it was occupied by Greece. Lycia became part of Anatolia. Then, it was integrated to Turkey during the Ottoman era when the Ottomans invaded Anatolia known as Asia Minor. An astonishing discovery in studying the history of Lycia is, it reveals that federal system of government was applied there thousands of years before it is applied in the United States of America. It happened when Lycia won in revolting against the powerful Roman Empire. When the mighty empire granted Lycia independence, its cities fought against each other until they agreed to unite as federalist city-states and the union was called the Lycian League. It was guided by democratic principles. Each city state elects 1, 2 or 3 representatives on the senate base upon the sizes of the city-states. When Lycia became part of the Ottoman Empire, it remained part of Turkey up to this day.

Another place related to Dalyan that gained international popularity is a street in Dalyan itself name June Haimoff. She was also an English environmentalist who supported David Bellany for the cause of preserving the sea turtles. She herself resided in Dalyan when she retired. Actually, her dream was to be an opera singer; she had classical music training in music conservatory. Then she pursued dancing and ballet. Later on, she wanted to be a painter. Her father was a prominent petroleum engineer, so she was able to tour in all places in the Middle East. She visited southwestern Turkey for the first time in July 1975, riding a boat called Bouboulina baught in Greece. During that time, Turkey was not yet visited by many tourists. She was branded Kaptan June by the locals. She decided to stay permanently in Dalyan in 1984, living on the beach. She noticed that the sea turtles were gradually vanishing as more buildings are erected on the beach along with the development of tourism. This prompted her to dedicate her efforts to conserve the site and attracting international attention to the welfare of the turtles. She wrote her struggle and victory for the survival of these turtles in her book Kaptan June and the Turtles published in 1997.