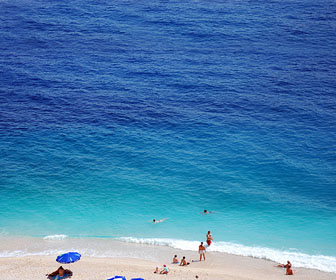 Kalkan beaches are one of the hundred ways to beat the heat of summer. Kalkan area is surrounded of beautiful beaches. Public beach with crystal clear and pebbly water located to the east of Kalkan's harbor; it has earned a Blue Flag award for cleanliness.

You don't have to walk over the pebbles for long because of the depths of the water drops off near the shore. Lots of places to keep cool relax and enjoy while lying on sun beds with umbrella which are available for rent. Or you can ride on a "dolmus" an inexpensive, common and very advantageous Turkish minibus going to one of the two beaches in Kalkan.

Dazzling Kaputaş Beach is an attractive sandy swimming bay nestled at the foot of a striking mountain ravine 10 minutes from Kalkan. Often pictured in travel brochures for Turkey, and yet it doesn't get crowded as you would expect. The water is always a glowing color of turquoise. There are also some enterprises who sell snacks and beverages, umbrellas can also be hired here. Dolmushes (shared minibuses) are always available to go to this beach everyday from the centre of Kalkan. You have to take into consideration if you have a walking problem because it takes a few steps to head down to the beach.


There is another one which is part of the national park, the Patrai Beach. 12 kilometer widen of sand with small snack bar. Patara was also known to be an important port city of ancient Lycia and the ruins there are quite widespread. Kalkan has six popular beach clubs that can be reached by shuttle from the harbor making it relaxed to enjoy the sea. These are superb smooth stand terraces and gardens hack underneath the ridge with ladders going into the sea. They offer everything that will make your stay enjoyable and relaxing from swimming and sunbathing to water sports and restaurant/bar facilities, with sun bed and umbrellas for hire. They have free water taxi service that can pick you up in the harbor.

The Kalamar Beach Club which is located in serene turquoise cove of Kalamar Bay gives you free transportation and the beach club will going to pay your taxi fare as soon as you get there and give you shuttle service to bring you back to your accommodation. You can see beautiful sea creatures, such as fish, starfish etc. through snorkeling (snorkels for rent).

If you want to spend your by the pool relaxing yet your hotel of condo does not have one, there are several hotels in Kalkan that have superb pools which is open to the public. Water sports are also available and ready for you to enjoy it Kalkan beach clubs such as jet skiing, water skiing, parasailing etc. It will really make your summer stay great, fun and enjoyable because of the so many leisure activities that you will surely appreciate.

Kalkan is also known for scuba diving because of its crystal clear waters and the fact that this area is known as one of the top locations for scuba diving in Turkey's coast. You will enjoy their different dive sites including islands, reefs and wall with wide variety of marine life like sardines, moray eels, stingrays, turtles, barracudas, sea bream, etc. Experienced and enjoy the river canoeing nearby Xanthos River. River guides will take you to a journey across ancient Lycian lands serene, green nature.

River tubing is also one great adventure that you can enjoy here in Saklikent River with your tube and paddle. The water is truly somewhat low and very cool to beat the summer heat.