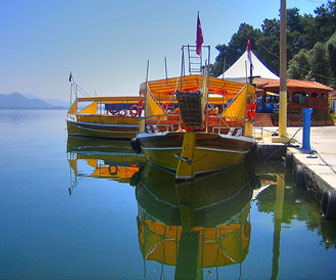 The town of Koycegiz is a district of Mugla Province and a part of the Aegan Region of Turkey. It is situated in the northern end of Koycegiz Lake adjoining Mediterranean Sea by a channel known as the Dalyan Delta.

Dalyan is a well-preserved nature and wildlife sanctuary. Its long, sandy beach serves as a refuge and breeding ground for the rare type of turtles, known as the loggerhead sea turtles or Carreta-Carreta turtles, and also a home for the blue crabs.



The town of Koycegiz is a one of a kind region with its village houses, citrus gardens that extends around the calm lake, marshes, and its magnificent mountains that constantly change their colors of purple to blue. You can observe and feel a Mediterranean climate in Koycegiz especially on its coastal part and a bit of continental climate is felt on its mountainous regions.

The Dalyan Delta as well as the town is widely known to the tourists and visitors and for its maze of channels that can be traveled around with a boat. There are restaurants that are situated within the waterways that serve fresh fish as their specialty. When you look above the cliff in the ancient city of Caunos, you can see sarcophagi that were carved in the rocks.

There are many great sights to see and behold here in Koycegiz, it varies from the ancient cities to beaches, thermal springs, and vast mountains. Take a look at some of these places:

Kaunos Ruins
It is believed to be the first settlement area of the Lycians, Carians and Romans during the 1000 B. C. Among the visible ruins here are the ramparts and acropolis, Roman bath, round fountain, theater, temple and agora that have been discovered through excavation.


Rock Graves
Rock Graves dated back since 4th century B. C., and it is situated near the Daylan channel. The name itself describes that this is a place of tombs carved in the rocks.

Religious Monuments
You can also find here in Turkey a mosque that is constructed during the Menteşe period. Amongst them are the Nasuh Dede Mausoleum, Benliler Mausoleum, and Kargın Kuru Mausoleum.

Thermal Springs
There are various thermal springs that can be found in Koycegiz which includes Sultaniye Thermal and Mineral Springs that is believed to be used by Caunoses during 100 B. C. Its ruins widen the thermal spring by adding new facilities during Bizantium period and can still be found today in the lake. Going to thermal springs such as these, eases the symptoms of nephritis, rheumatism, mental tiredness, kidney and urethral diseases, and also skin and gynecological diseases. Another one is the very scenic Koycegiz Lake, which is also popular for its natural hot springs and mud baths.

Gokbel Mountain and Radar
The Gokbel Mountain is one of Koycegiz' high mountains that stands in the east of the Iztuzu coast. It is a steep mountain, covered with pine trees and one can reach it through climbing from a slope in the northwest. On the top of the mountain, you can see radar wherein you can behold a striking panoramic view of the Dalyan region, but in order to get into the radar, you must have permission first.

For those who love the sand and sea, the popular beaches here that you have to visit are the Dalyan Strait and Iztuzu Beach. The Dalyan Strait is like a sanctuary measuring about 80 – 100 kilometers long while Iztuzu Beach is well known as the breeding ground of the Caretta-caretta turtles.

There are two ways to reach the town of Koycegiz, Turkey. It is by land and by air. If you choose to travel on land, you can take bus voyages from Ankara, Izmir and Istanbul. If you want to travel by air, the nearest airport in the province is the Dalaman Airport which is 35 km. away from the province.

So what more can you ask for? Come and visit Koycegiz and be mesmerized by its breath-taking beauty.