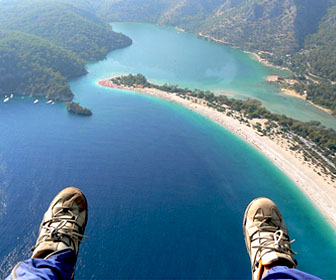 Oludeniz could be a dream destination for those who want to fill their time with romance, nature with the blend of adventure. Surrounded by clear warm water of Blue Lagoons makes it ideal for relishing the beauty of nature along with the option to enjoy your time by engaging into various kinds of water games such as scuba diving, canoes and pedaloes.

As per your choice, you can choose to have relaxed waterfront restaurants, seafront bars and even a couple of discos. After sunset cocktails, evenings could be turned into enjoyable late-night dance at discos which have fantastic views. You can also opt for various kinds of local excursions and romantic moonlight cruises, which often include traditional Turkish entertainment.
History
If we look back on its origin, Olu Deniz took its name from the surrounded blue lagoons, which stretches to several miles and has stunning backdrop of mountains and pine forest. It's nearby to Fethiye, renowned for its aubergines and tomatoes. That's why; it has been designated as the National Park

Location
Oludeniz lies in the midst of nature's lap, situated at south west coast of Turkey on the Aegean Sea to the south and the high, steep sided Babada Mountain, 14 km (9 mi) south of Fethiye. It is at the distance of 60kms from Dalaman Airport. Basic facilities like banking and medicine has been taken care of. All the leading roads take you to the mountains.

Famous for:
It is listed among the top 5 beaches in the world by the leading Journals related to Travelers and Tourism. This resort is renowned for its paragliding opportunities. It offers unique panoramic views, and the Babada Mountain's exceptional height.

Oludeniz beach has been preferred mainly for:
1. Beautifully maintained gardens along an attractive seafront promenade,
considered one of the finest in Turkey.
2. Natural beauty of turquoise lagoon at the end of Oludeniz beach.
3. Paragliding and hang-gliding


Weather
The weather here, adds to the beauty of this beach. During summers, the average is 32, and drops to an average 20 in winter.

Food
Variety of menus including Italian, Chinese, Desti Kebab, all types of sea found can be relished and restaurants situated near the beaches. Tropicana Oludeniz Hotel, Mountbello, Captain Hooks, Cloud 9 on the beach front, is few of the cheap and best hotels available nearby the beaches.

Shopping
Oludeniz has local markets near to both Hisaronu and Fethiye, preferably for jewelry, bags, leather goods, carpets and ceramics.


thanks to GaryG for the Oludeniz video.

Main Attractions:

Paragliding
Oludeniz Air Games Festival is organized in the month of October every year has added to its publicity. The natural beauty of this place, blue water with the beautiful shade of white beaches makes the whole environment very relaxing.

Sailing
The beautiful turquoise color makes the whole experience of sailing which can be cherished for the rest of the life.

Diving
People with the passion of adventure can go for diving, the clean and clear fresh colored water in Oludeniz offer an assortment of diving from calm coral reefs on shallow areas, cavern walls, and drop offs and tunnels. There are range of marine life assorted from tuna, moray eels, octopus, tuna, jacks, barracuda's and lobster and dolphins.

Clubs & Bars
Buzz Beach Bar, Tuti's Bar, Help Beach, Soho bar

Hotels
Many hotels are available in the price range of £200-£500. Ata Lagoon, Hotel Belcekiz Beach Oludeniz, St Nicholas Park Hotel are among the few.

Whatever is your reason to holiday, whenever you plan throughout the year, this place is surely will add to your relaxation and memories which will make your visit as one of the most memorable ones.