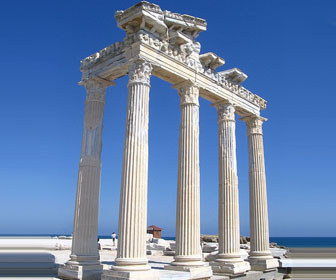 On the Mediterranean lies a very beautiful and breathtaking coastal resort, Side. It is located about 15 kms east of one of Turkey's largest cities, the Antalya.

The town is rich in the ruins of the ancient city but on the other hand, it does have chic shops late night bars and modern architecture. Side has emerged to be one of the most popular resorts for vacationers from around the world.



Side, is best visited during the months of late April, May and the early days of June and October. The charm of the place is at its fullest during these months. If you choose to visit Side during the summer, never let yourself get caught up during the weekends. This is so because the place tends to get overly crowded at these days.

Getting to Side, Turkey is a breeze. All you have to do is board a plane to Antalya and from there take a bus or a minibus.

Side, in its early years has served as an important harbor. It even served as a market for slaves where African slaves were traded. Because of the long sandy beaches, Side also became a hideout for pirates. In the later years, it has emerged to be a legitimate commercial center. In terms of its culture, it has become progressive as well. Some of the temples and ruins which could still be found would attest to that.

For tourists, it is recommended to visit these attractions:

Temples of Apollo and Athena
The temples had been built in the later part of the second century. The temples were built in dedication to Side's patron Goddess Athena and Apollo.

Aspendos
Aspendos is a Hellenistic theatre built in 167 A.D. during the reign of Marcus Aurelius. To this date, the theatre had been well preserved and is still in use. Aside from the theatre, it also has a historical bridge which is 225 meters long. The bridge had already been restored.

Manavgat
Manavgat is a waterfall. The waterfall's surroundings have been developed to be tourist friendly. Restaurants and shops have populated the vicinity of the waterfalls. Bargaining would be very helpful to find fascinating treasures like glass balls, candles, Turkish coffee; making equipments, and handicrafts like jewelries, carpets and leather goods.

Beaches
The deep blue Mediterranean Sea has become one of the tourists most sought after sight. More so, two beaches which are extremely extraordinary because of its golden colored sand could be found in Side.

If you would want nightlife, you could find bars and discos along the harbor. The most popular hangout is the Oxyd.

Parasailing could also be done for those who are wild and are in for an adventure.

To satisfy the cravings of your palate, you could easily find restaurants around town. If you are craving for something sweet, check out Petek. It is located in Manavgat. They serve different kinds of puddings, sweets and the authentic Turkish coffee. Pide would be the best choice if you wanted a snack. Pide is fresh bread that was baked on a warm plate and is a specialty of Turkey. It does come with a variety of flavors. For a full meal, try Minos. They serve fresh fish and seafood delicacies. Other restaurants you could check out are: Hukukcular and Zumrut.

After a long day, you would want to have some rest. Side has a wide array of accommodation to choose from; from the cheap to the most luxurious hotels. Here are some of the hotels you could check out: Arum Hotel, Hotel Asteria, Sertkaya Hotel, and the Raaga Apartment Hotel.

For an extraordinary experience, do visit Side, Turkey. It is a pace where history and nature meets in perfect harmony.