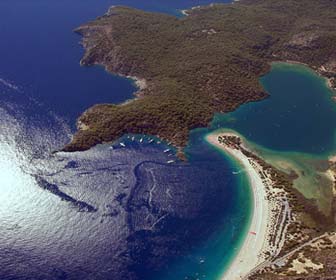 When Turkey country is heard by people or read by people, the picture that registers or flashes on minds is, an exotic unique world, a world living in solitude with own civilization, or something antique, vintage or very old Muslim nation and culture. Surprisingly, there are cities in Turkey like Fethiye; it is not just a city but a modern city.

It is hard to believe but it's true, Fethiye is found in the province of Mugla. Mugla is a province in Turkey that became known as conservative to tourists because many of the places in that province retained their ancient fragments.

Examples of those places are the Iztuzu beach, Lycia, and Dalyan. Fethiye is the right destination for tourists who want modern lifestyle in Turkey. Fethiye offers choices of accommodations like holiday villages, luxury hotels, and apartments.

Although modern city, some traces of antiquity are maintained to highlight the contrasting effect of modern and antiquity to the emotion and imagination of the visitors like in European countries such as Greece, Italy, Spain, France, Germany, England and others. One antique trace is an old town in Fethiye which is known for its streets namely Hisaronu and Oludeniz. Another example of the marks of antiquity is the remains of Hellenistic theater which is one of the tourist attractions in Turkey especially during summer, because Turkey gives special price during summer for those who want to view this ruins. Ancient Greeks were fond of music and drama combination of art that were performed in Hellenistic theaters.

When Europe entered to the age of renaissance from about mid 1300s-1500s, when ancient Greek ideals were revived, this art of combining music and drama evolved to operas. In 1920s, a new kind of art came from operas, the Broadway musicals. There is a museum in fisheye city as well, that is rich in ancient remains showing the succession of civilizations that occupied the place, starting from classical Lycia. The museum is called Fethiye Museum. Just in case, a traveler passes in the ancient city of Telmessos which is also in Mugla, Fethiye is inside it.

Telesis was the biggest city of Lycia. This flourishing ancient city became known for its school of diviners. Contemporaries know diviners as fortunetellers only. On the contrary, in ancient era, they are treated as messenger of God or of gods and goddesses. Those who want to be diviners were undergoing initiations, studies, heavy disciplines and severe trainings. The best diviners were hired as consultants or advisers of the monarchs or kings. These diviners played a very important role before the heads of Lycia declared war against Cyrus, the emperor of Persian Empire and when Lycia was engaged in war with Alexander the great. A diviner who became famous in the ancient world was the Greek Aristander whom Alexander the great regarded as the best diviner. His fame started when he interpreted very accurately a dream of someone that reveals the pregnancy of Olympias. Aristander himself was a Telmessian. This ancient city also became part of the history of the Roman Catholic Church and the Greek Orthodox Church from the 11th century to 16th century.

When the Greeks occupied Fethiye, they named it Makri, and became Fethiye when the Turks took over when they defeated the Greeks in Greek and Turkish conflicts in the past 20th century. Another nice thing in Fethiye is, its strategic location is also near the Turkish Riviera, where tourists can enjoy beaches and more ancient left over's plus good climate. The famous ancient Roman conqueror Mark Anthony chose this Turkish Riviera as wedding gift to his famous Egyptian fiancée, Cleopatra.

Another historical trivia about this Turkish Riviera is, Saint Nicholas spent some years of his life here. This saint was one of te saints that Pope John Paul I decolonized in 1978, but this Turkish who was once recognized as saint, is better known for giving gifts to children every Christmas using slay as his vehicle pulled by reindeers. His famous reindeer is Rudolf whose nose is red. His more famous name is, Santa Claus. Buying and selling jewelries is another activity in Fethiye that people enjoy.