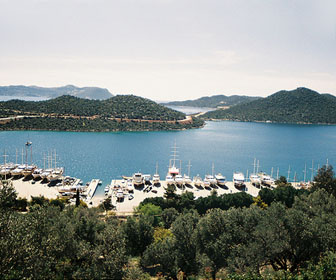 Kaş is situated in the midst of soaring perpendicular cliffs, and become the second foremost resort and holiday destination in Turkey. Kas may seems insufficient for calm stretches of beach, but the impressive rocky coastline makes easy access to lucid and clean Mediterranean waters that offers a wealthy of outdoor activities, and a lively nightlife.

Kas maintains status as one of enjoyable tourist spots in Turkey. Arrangement can be settled if you want to visit the surroundings archaeological sites at Demre, Myra and the Xanthos Valley.



The town is built around the remains of ancient Antiphellos, and there are relics of a Hellenistic theatre, the monumental Lion Tomb, and some hillside rock tombs within the town.

Kas saves its small-town charm, with narrow cobbled streets and novel boutique shops despite of the tourist development. Once Kas was a simple fishing village but over the years developed into a main tourist attraction and became the region's main resort

The city of Kas has a rocky coastline which provides clear access to the Mediterranean's luminous waters, and offer opposing aspect such as mountain and sea, ancient remains and modern buildings.

The little town of Kas is admired because of its historical settings and proud of its ancient treasure. One of the historical sites that Kas possessed is the Lycian Sarcophagus located in the center and at the west side of Kas is the Hellenistic, a well-preserved theater .

Kas is a place where you can experience both worlds; amazing wonders of forest, sea, history and art and the progressive city at the same time. Kas it is a place where a fulfillment of your desire is reachable. Chill out in some of the near bars and restaurants while exchanging stories with family and friends.

Get your accommodations to one of the finest hotels in Kas which are all inclusive and experience first-rate facilities and hotel service. If you are looking for water sports that will stimulate you, Kas also has a lot to offer. The yacht trips enable you to see a lot of scenery and even possibly get into the water. One of the most popular activities is the glass-bottomed boat tour, where you can see all of the marine life and wreckage as you travel along. Try scuba diving with full instruction and rent the equipment from a professional diving centre. Spend a day and give yourself a break in one of the soothing beaches nearby. Go dip down to the water or undertake the challenge of water sport.

There are lots of panoramic views that will give pleasure to your sight. Feel the ancient times of Kas by visiting some historical sites like Xanthos and Letoon or even go to the Pamukkale thermal springs. Have fun in your boat trips where you can be able to get into the water and see wonders.

Kas is also a heaven for divers. Since last year, many controlled areas were become open for diving; as a result, Kas provides more than 25 different diving spots like caves, shipwrecks, reefs, underwater canyons, turtle places and many more. Divers from all over the world are visiting Kas regularly to enjoy together the clear water and discover the great diving places while feeling happy in a up to 28 degrees warm water.

If you get tired and hungry, Kas also offer different cuisines that will set off your appetite. There are many fish restaurants that serve local dishes which are highly recommended. Nightlife is so alive in here in this small town of Kas, entertainment, karaoke, and disco are few of fun activity during summer. Shop around in several souvenir shops within the area and not to worry about your transportation since there are many buses available that will take you into other resorts such as Fethiye or Antalya.

Escape from your frenzied schedules, forget about your vocation responsibilities, go and visit Kas and be at peace in a moment!